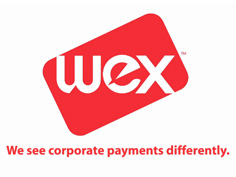 NEMA Called Upon to Produce a Video to help WEX (formerly known as Wright Express) Launch its New Brand

Project Scope
WEX, one of the largest publicly traded companies in southern Maine, turned to NEMA to help create a powerful video that launched their new brand, logo and loo
NEMA has worked with WEX for more than two years creating a campaign around client testimonial videos and  producing more than 15 high-end pieces that now are a formula for all of the new companies acquired by WEX.
Strategy
NEMA developed the creative for the video and started with the new brand standards.  The focus of the video was the employees telling the story of Wright Express and the company culture that lead them to the new brand of WEX.
Results
The video was played at an all company meeting of more than 500 employees at the South Portland headquarters.  It was well-received and concluded a powerful meeting giving everyone a sense of pride of what they have accomplished as a company and hope for more growth in the future.  This video is now used as a recruiting tool by the Human Resources Department at WEX.