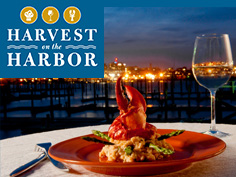 Northeast Media Associates Helps to Add  $7 Million in Tourism Revenue to Maine in Three Years…

Project Scope
In 2009 the Greater Portland Convention & Visitors Bureau engaged the services of Northeast Media Associates (NEMA) to generate PR and publicity for Harvest on the Harbor, a three-day food and wine festival on Portland's waterfront. The goal was to generate PR and publicity for the event on both local and national levels in order to attract visitors from all over the country during Maine's "shoulder season" to increase tourism revenue and to put Maine on the map as a culinary destination.
Strategy
In order to promote Harvest on the Harbor on both a local and national level, NEMA launched an extensive marketing and public relations campaign strengthened by a special events marketing grant from the Maine Office of Tourism, and by the support of key local sponsors. The campaign included television interviews and appearances, press releases, and focused marketing and PR efforts included online and radio promotion, events at local stores, and editorial and advertisements in key publications.
Gallery option 3: Basic tiles w/caption visible. Clicking on images opens them to full size in a lightbox.
Results
In 2009, Harvest on the Harbor was named one of the "Great Ideas for Fall Food Festivals" by People Magazine and was attended by more than 4,000 foodies from around the country. Attendees traveled from 34 states, as far away as Alaska, Wisconsin, Kansas and California, as well as from Canada. More than 25 media outlets attended the event including an international television crew from Paris, France. Overall, the media campaign generated more than 250 print and online articles and television reports related to the event, including an article in People Magazine.
Harvest on the Harbor had a positive economic impact from the beginning, injecting $1.5M into the local economy in the form of overnight accommodations, dining, tour and attraction attendance, and retail sales in 2009. In 2010 that number increased to more than $2M, and by 2012 to $3.5 million. In the three years Northeast Media Associates promoted Harvest on the Harbor, the Greater Portland Convention and Visitors Bureau recognized additional tourism revenue of more than $7M.
The event consistently brings in people from all over the country. In 2012 visitors attended from over 30 states and three countries.
"The mission of this event is to promote Maine as a Culinary Travel Destination and to extend the tourism season beyond the traditional summer and fall seasons into the shoulder season, and I think it is fair to say, based on the numbers and positive feedback, that we accomplished that mission."

– Barbara Whitten, President & CEO, Greater Portland Convention and Visitors Bureau